Comparing a Battery system to conventional generator
Regarding the battery system, doing a grid tied battery system is normally not done. For backup power, you would be looking for a combustion engine generator if you want to run the house. If you are looking for just a few items to backup, you can do it, but it is 3 times the price to do what a standby generator can do.
A battery system that can do 9kw of output which is the most of any system. Tesla is 5kw. I attached a slide with some comparisons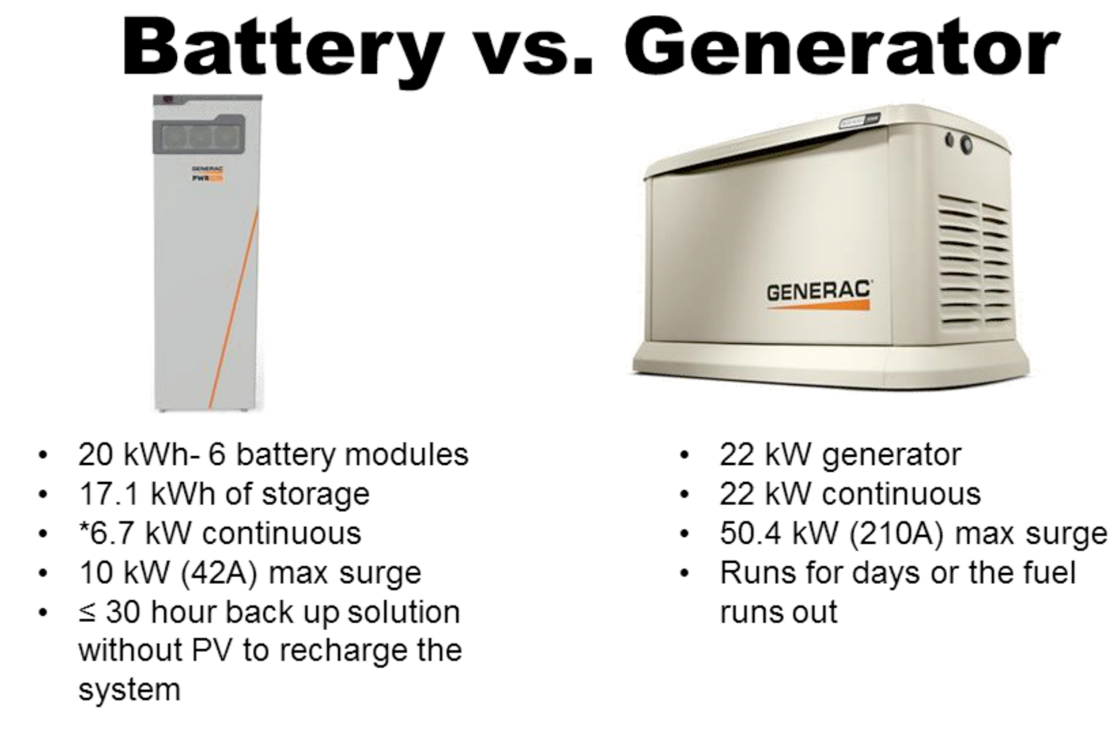 I will give you the quickest rundown of the pros and cons of each way.
Solar - This is the producing of power by using solar panels to capture energy and turn it into usable voltage to run electricity.
Pros - Lowers your electric bill and will pay for itself. Improved home value. Reduce emissions and carbon footprint

Cons - Panels can be expensive, payback subject to the location and direction the panels are pointed. Not a backup system.

Average cost/ Ballpark range - $30,000 to $55,000
Solar with batteries - This is producing electricity and storing it in your home with either lead acid or lithium ion batteries. After batteries are topped off it will send excess back into the grid to spin the meter backwards.
Pros - Same as above with ability to store and use energy as back up power.

Cons - Expensive! Depending on the system it is limited to on output. 9kw is the highest range of output by any system. Adding more batteries only extends the time you can last in outage not output. Batteries will go bad and must be replaced. Takes up alot of room. Must select the circuits that you want on batteries and will not run whole house at this time. Future technology will add more coverage.

Average cost/ Ballpark range - $50,000 to $85,000
NG Generator - Natural gas or LP generator is combustion engine that creates back up power.
Pros - Cheapest raw backup power you can buy per KW.

Cons - It still has emissions but only while running.

Average cost/ Ballpark range - $10,000 to $30,000
I really need to know what you are trying to do, so we can design something. As you can see, it is complicated, and the codes for all systems are different for jurisdictions and utilities. To help get you what you want, just let me know what you are trying to backup on the system. If they are large loads or the whole house, it cannot be accomplished with some of the smaller battery systems, and we just want to get the expectations correct.
Related Articles

How to shut down generator during a power outage.

Before turning Generator off Turn the main utility breaker off Turn the breaker on generator to off to take the load off unit. Allow generator to run with no load for one minute to cool down. Set Generator to OFF on the controller at generator. If ...

How much does it cost to install a generator?

The cost of the installation of a generator is going to be based on the different ways you can install a generator. The three major ways of installing a generator in your home are Manual transfer switch with portable generator. Partial home standby ...

How to Reconnect Your Generator to WIFI? Generator that was connected but has disconnected.

Important Note: The instruction sheet below is designed for WIFI Reconnection for generator's that have have been connected to WIFI successfully at least once, and that have Onboard WIFI. If you would like to open the video tutorial in a separate ...

How many days will a Generac generator continuously run/power a home?

The generac generator can run continuously until utility comes back if you follow the proper maintenance procedures. This requires you to have a daily check, so every 24 hours you must check for oil and do visual inspection of fuel lines and oil ...

How long does the generator installation take?

Depending on the type of installation that you are looking for, it usually takes a day or less. I will include the variables for the two different types of generator install. Partial house - The install will include moving selected circuits to a ...