How many days will a Generac generator run/power a home?
The Generac generator can run continuously until utility comes back if you follow the proper maintenance procedures.
This requires you to have a daily check with inspection of enclosure, fuel lines and engine oil. If unit is operating in weather conditions below 40 and above 85 degrees F, you must change oil every 100 hours or once a year.




Every year check for any water intrusion, perform fuel system leak test and verify and test the state of

the battery.

Every 200 hours check battery, replace oil and oil filter




Every 400 hours replace air filter, valve clearance , spark plugs and sediment trap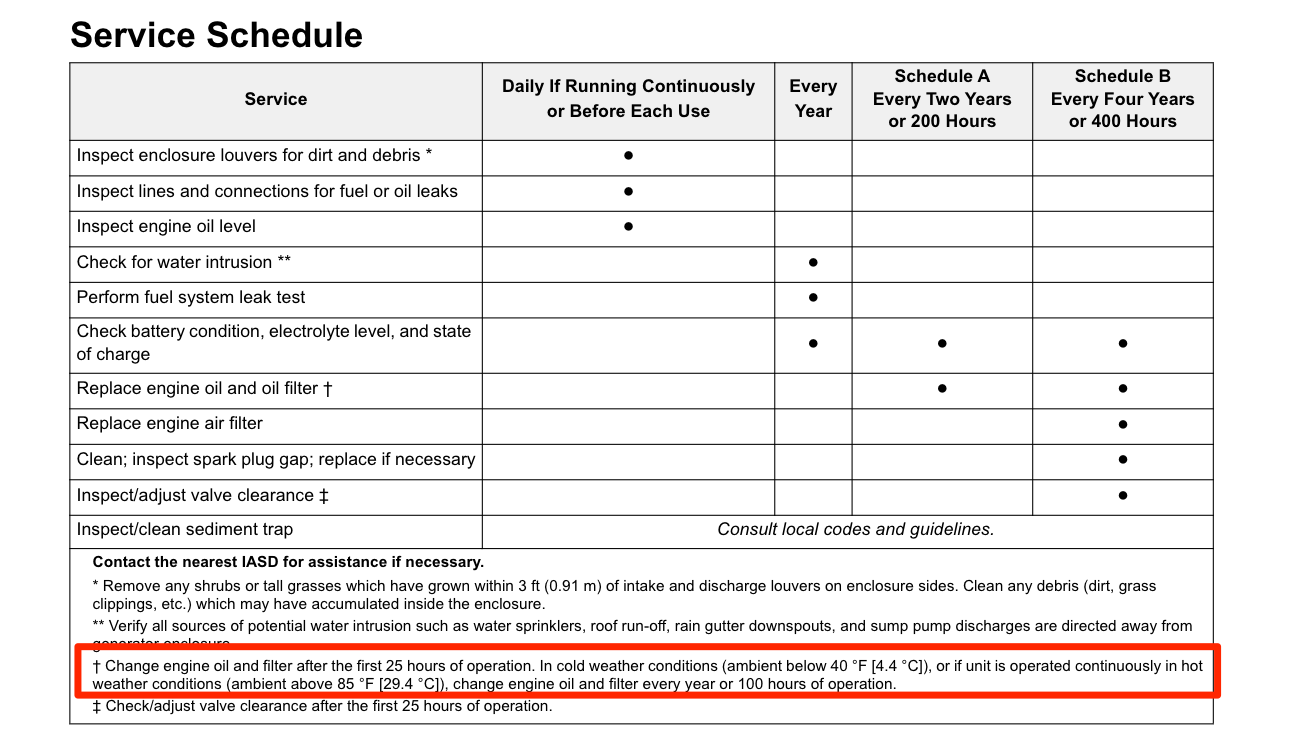 Related Articles

We have a Generac 5500 watt gas generator. How long will it run on one tank of gas?

All fuel efficiencies are based on loads on the unit. The more loads you have the more fuel you will use. On most portables they are going to be designed to run around 8-12 hours. At 50% load on the 5500 watt portable will run about 10 hours. You ...

What does "Ready to Run" email mean?

The following Mobile link notification only indicates: your unit is ready to run and start if you were to have a power outage.

How to shut down generator during a power outage.

Before turning Generator off Turn the main utility breaker off Turn the breaker on generator to off to take the load off unit. Allow generator to run with no load for one minute to cool down. Set Generator to OFF on the controller at generator. If ...

What is the service or maintenance schedule of my air cooled generator?

Always visit www.Generac.com for your specific model We recommend having a certified Generac technician do annual service every year. While some of the units will not need an air filter, spark plug or battery every year. We can catch many small ...

Wifi Issues and Network Issues

Generators For Sale does back up power very well. We make sure that we keep your back up power solution ready to run in emergency situations. Part of the benefits of having a Generac Generator is Fleet Monitoring. Fleet monitoring can help us see ...